Myriad beef or lamb (or goat) tagine recipes are out there, natch. This is my variant, and still very much a work in progress.
As with most tagines you can confidently dabble and twiddle to your heart's content – modifying quantities and spices with almost no risk at all.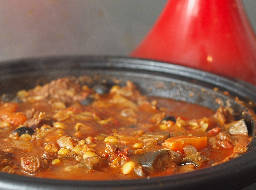 Ingredients
1 tbs olive, macadamia or grapeseed oil
500gm organic beef - cubed
1 tsp each of caraway, fennel and cumin seeds
3 decent sized onions - diced
1 decent sized carrots - diced
2 tsps ras el hanout
small qty (1 cube) of chicken stock
2 tsp roughly cracked peppercorns
400gm tin of peeled tomatoes
beans, split peas, lentils, etc
optional - 1 eggplant
optional - dates
optional - honey
Note that any kind of beef or lamb, or even goat if you can find it, would work fine here.
Method
like to cook this for about 3 hours, give or take. But it's quite flexible. I prefer a nice slow cooking process – good for the appetite, means you can use braising steak, flavours seem to improve.
Heat the tagine base up to a medium temperature - enough to sear meat. Add the oil, and once hot, add the meat, turning frequently to brown it.
Add the seeds. Keep stirring.
Add the onion and carrot. Stir some more.
Add the stock - about 300ml or so - you don't want a soup, but you don't want it to dry out. Stir.
Add the peppercorns and ras el hanout and top up with component spices if you like. I add some chilli, garlic and ginger here, but that's part of the work in progress aspect.
At around 60-90 minutes before serving, add the tinned tomatoes, the roughly cubed eggplant (optional), and the dried (but rinsed) lentils or split peas - these last will soak up much of the liquid.
If you're using beans you've cooked yourself, they can also go in now. If you're using tinned beans, don't put these in until just a few minutes before intending to serve (or they'll go really mushy).
Optionally - a handful of olives and/or a squeeze of honey and/or some dates, around 15 minutes before serving.